Graphic Facilitation
Kati | 25 august, 2016
aka training for all of you, who are curious about:
"How to use the strategically thought-out doodling in my work and daily life?"
You can always invite me to a location closer to you or to train / work with your company 🙂
Have you asked yourself lately HOW TO:
present your ideas and projects, carry them out and analyze them more effectively?

masterfully and visually communicate important messages?

enhance meetings, project works and the creation of strategies?

provide overview and shared understanding for teams and groups in all sizes?

collaborate purposefully?

communicate effectively?

navigate in complexity?
 If 'Yes' then this training could be exactly for you 🙂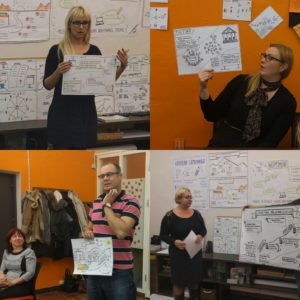 Graphic facilitation skills empower you to bring structure to your ideas by using simple pictures. The visual language helps to create a shared understanding in multidisciplinary teams. Visual recording is a powerful method to capture and structure your ideas discussed and helps you share the outcomes of your meetings.
Graphic facilitation and visual thinking is a powerful practical methodology for people working in the field of leadership, coaching, consulting, training, education, youth work, children, facilitation, design, technology, project based work, IT and so on and so on… it is suitable for everybody.
To sign up for this training you do not need to have any artistic background, but just be ready to doodle, scribe, and analyse a lot.
The main emphasis of the training is to encourage the participants to draw and use simpler drawing techniques in professional life. Additionally, we learn to piece the drawings together in strategic contexts, how a picture can support important texts and how to create complete visuals.

In this training we focus more on graphic facilitation in any professional context and a little less on graphic recording.

This is a hands-on training which means that agenda includes lots of creative practical tasks. I give our best that the training would be relevant and directly applicable to your own work.
Participation fee/ training costs depends on local conditions;

Usually we 

start in the morning at 9.00 or 10.00

, have 2 coffee breaks, a lunch break and

end in the evening at 17.00 0r 18.00
It can always be a 2-3 day training or 2 half-day trainings;
Trainings are held in English but do not worry- I speak simple language and visuals are the language itself 🙂

Don't hesitate to ask more: kati@kating.ee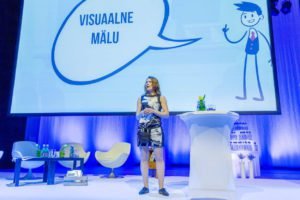 Your trainer Kati Orav  was born and lives in Estonia. She has been interested in teaching and leading since childhood, so, no surprise, that currently she is working as a trainer and process manager. She believes that creating right conditions, asking right questions and using supportive tools can help people to discover creativity and potential to make a change.
Kati has made a book about Estonian movies in pictograms and has been co-author to a publication on visual facilitation in education and youth work with Deniss Jershov and Torben Grocholl "Visual Facilitation cookbook"

She's been voted as one of the best speakers in one of the biggest Conference for leaders in Estonia. She also did the whole visual to this conference and graphic recording during the happening.
She was also performing in TEDxTartu in november 2016.
One great missions in my life is to promote graphic visualisation as an approach to simplification of strategic thinking and project management, and also to help people to find the courage to doodle. Come and join me! 🙂