I want to share my knowledge, skills, and research with as many people as possible and I am always glad to perform at conferences or give a workshop.
Visual thinking and scribbling are the basic skills of being a human, forgotten by us, and they can be linked with any area. We need to see our thoughts and plans everywhere and share them with the others. Primarily, these are personal tools, making it thus possible to share this topic with people from very many different fields of life. However, it is also possible to focus on a certain field.
My research includes many topics that could be discussed with the scribbling skill:
visual thinking;
conscious scribbling;
learning;
creativity;
metaphors and symbols;
journey and mind maps;
managing changes;
meaningful process;
creating order from the chaos.
Conferences where you can meet me: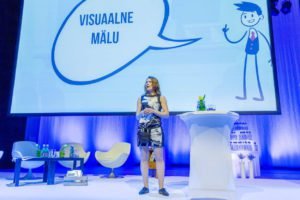 Conferences I've been to:
Training conference 2020 (held in 2019), workshop;
Annual Conference of the Estonian Association of Internal Auditors 2019;
Estonian School and Primary Education Training Day 2019, workshop;
Agile Saturday XIV Spring 2018; PERFORM IN ENGLISH!
Training conference 2018 (held in 2017), workshop;
Tartu TedxTalk 2016;
Management Conference 2016- nominated among the top five speakers;
Tallinn Innovation Day 2016;
Estonian Secretary and Assistant Assistant Conference-Fair 2016, workshop;
Financial Conference 2015, workshop;
Võrumaa Civic Associations Conference 2014
Opinion Festival 2014, workshop.
You can also watch the Tedx Talk made in Tartu in 2016, where I used a digital tablet during a performance for the first time in my life. The topic was "How to draw the future- a quick course on graphic simplification"